BIOGRAPHY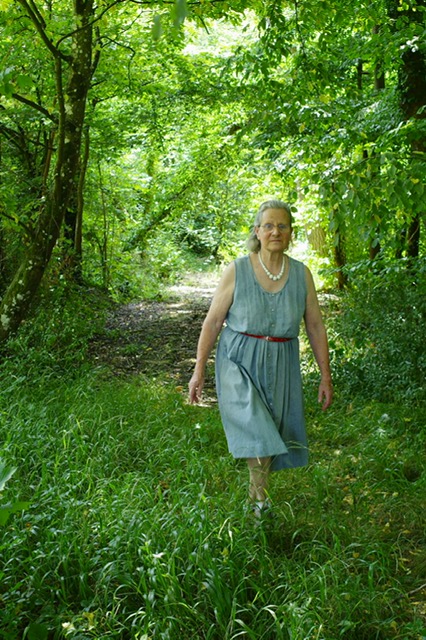 Sarah Walton produced salt glaze stoneware at her studio at Alciston between 1975 and 2019. She initially concentrated on thrown tableware, gaining recognition for its restrained authority, but in 1985, began developing large handbuilt and press-moulded forms for outdoors, notably birdbaths. She is particularly known for her series of birdbaths reminiscent of square boulders, set on timber bases. In those years she also experimented with making sizeable abstract sculpture, using her salt kiln to produce it. She also tried working with cast iron and lead.

But in 2019 she went right down in scale and started to make small sculptures inspired by landscape . These are fired in electric kilns .

She acknowledges a debt to mediaeval pots, the arts of Mesopotamia and South-East Asia, to Neolithic Art, to Western Painting, sculpture, architecture, music, literature, poetry, wit, philosophy and religion, and to innumerable people down the years, especially Weislaw Pilawski, Irene Milburn and Jean Spacek.

Her work can be bought from her own studio in Sussex. This is open most days, 10am - 5pm. It is advisable to telephone first on 07776238972.






Born 1945
Grew up and was educated in London

1960-64
Chelsea Art School (Painting)

1966-71
Middlesex Hospital, London (SRN)

1971-73
Harrow Art School (Harrow Diploma in Studio Pottery)
Apprenticeships with David Leach and Zelda Mowat

In 1975
Set up her own studio at Alciston, Sussex.




Awards:
1975
Crafts Council Grant to establish a workshop

1978
South East Arts Bursary Award

1990
John Ruskin Craft Bursary

1993
South East Arts Major Award

1998
South East Arts Award




Work in Public Collections
Bell Collection, Clare College, Cambridge
Victoria & Albert Museum, London
Crafts Council, London
Contemporary Arts Society, London
South East Arts Collection, Hove Museum, Sussex
Castle Museum, Nottingham
Crafts Centre, Northern Arts, Cleveland
Norwich Museum, Norfolk
City Museum & Art Gallery, Stoke-on-Trent
Newport Museum, Gwent, Wales
Arts Centre, University of South Wales, Aberystwyth
Paisley Museum, Scotland
Glasgow Museum, Scotland
Allen Gallery, Alton, Hampshire
San Angelo Museum of Fine Arts, Texas, USA
Sainsbury Centre, University of East Anglia.




Work in Public Collections Bibliography
- 'Salt-glaze', Crafts, 23 (1976), pp.12-3
- 'Nursing the Kiln', Crafts, 36 (1979)
- 'Salt and Form', Ceramics Monthly, 31:9 (1983)
- 'Sarah Walton - Saltglaze', CR, 104 (1987)
'CPA New Members', CR, 50 (1978)
CC (1980), p.64
CPA (1980), (1983), (1986), (1989), (1992), (1997), (2000), (2006), (2008), (2012)
Gwyn Hanssen Pigott, 'Domestic Pots - Domestic Potters', CR, 92 (1985)
Aberystwyth Arts Centre, Sarah Walton, Ceramic Series 14, text by Sarah Walton (1986)
Margot Coatts, 'Sarah Walton', SP, 24 (1996)
Frankel (2000), pp.190-3
Cochrane (2001), pp.63-5
Hannah Wingrave, 'Sarah Walton', Ceramics in Society, 47 (2002)
Bonnie Kemske, 'Life Unfolding', CR, 256 (2012)